Decorative tiles of Siberian Pine
Decorative tiles of Siberian Pine for your health
Decorative tiles of Siberian Pine is made by pressing and thermal treatment on the wood material, which consists of shells of pine nuts, peel of cedar cones and pine resin as a binding element.
Decorative tile of Siberian Pine allocates a pleasant smell of cedar taiga, inhalation of which there is constant improvement of the body, stress, decreases fatigue, increases efficiency, improves the clarity of consciousness. Decorative tile of Siberian Pine is recommended for use in the workplace and health care facilities, hospitals, rest homes, dispensaries, rest rooms and saunas, bathhouses, all types of residential premises.
Composition decorative tiles:
pine nut shells, husks of cedar cones and pine resin as a binding element, a natural finish: wax or resin (based on the cedar resin) paints.
Properties decorative tiles of Siberian Pine
- antimicrobial, anti-inflammatory properties;
- radiate positive energy; - Relieves fatigue, provides a charge of vivacity;
- the scent of cedar resin - removes the aggression and irritability;
- to ease - asthmatic and allergic symptoms;
- analgetic, in direct contact with a sick place;
- reduces the harmful effects of any emitting office equipment and household appliances.
Application
- For registration of interiors, residential (especially recommended in children's rooms and bedrooms), offices, recreation rooms, gyms, hospitals, rest rooms in the baths, saunas, etc.;
- Objects of interior decoration: as a small decorative panels, boxes, etc
We take advance orders
ORDER »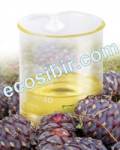 Siberian Pine nut oil
Siberian pine nut oil is obtained from purified pine nut kernel method cold-pressed, which allows you to keep useful properties of all its components.
Decorative tiles of Siberian Pine
Unique luxury decorative tile having aesthetic and health properties.
Oleoresin of Siberian Pine with Oil
Mixing Siberian Pine Oleoresin and Pine nut oil gives healing balsam. Balsam has a more powerful healing effect than each component separately.
Pine nut oil "ECO-SIBERIA"
Premium quality. Product is cold pressed allows to save all the healing properties of Siberian pine nuts, as well as his incredibly pleasant taste.