Natural choice Products Sea-buckthorn, chaga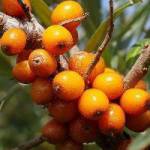 Sea-buckthorn (Latin Hippóphae rhamnoídes)are deciduous shrub, height is usually 1-3m, with gray bark and long spines. Shoots of different ages pose rounded, pyramidal or spreading crown. Fruits are oval or round drupes yellow-gold or orange, juicy, sour, very aromatic. Fruits of sea buckthorn contain provitamin A and vitamins B1, B2, B3, B6, C, E, K, etc. In fruits stored fat oil, which is composed of triacylglycerols with saturated and unsaturated fatty acids, pectin, organic acids, tannins, flavonoids, nicotinic and folic acids, macro - and micro elements (boron, iron, zinc, copper, manganese, potassium, calcium), sugar, and some types of plant antibiotics.
Sea-Buckthorn oil
Fatty oil obtained from fruits and seeds of sea buckthorn (Hippophae rhamnoides). Seabuckthorn benefits for a healthy lifestyle.

Siberian Chaga Extract powder
Dry water-soluble Siberian Chaga Extract - a natural antioxidant, is effective in the prevention of oncological diseases and diseases gastrointestinal tract