Oleoresin of Siberian Pine with Oil
Price:
On request / liter
Mixing Siberian Pine Oleoresin and Pine nut oil gives healing balsam in various concentrations: 5%, 10%, 20%.
Siberian pine (Pinus Sibirica) resin was in the name of the people oleoresin. With its incredible ability to heal wounds and regenerate cells, oleoresin Siberian pine is considered a very valuable product and is used to treat different diseases.
Properties:
«Siberian Pine Oleoresin in Pine nut oil» is an effective natural antioxidant. He has hepatoprotective, antiulcer, antiseptic, antisclerotic action, and also normalizes the gastrointestinal tract and metabolism, accelerates healing and reduces toxicity (poisoning) of the body when taking chemicals. Has a tonic effect, reduces chronic fatigue syndrome, enhances mental and physical performance.
Ñomposition:
Vitamins A, B1, B2, B3 (PP), B6, D, E, F, turpentine and its derivatives, oxygen compounds, succinic acid, resin acids and their derivatives, and rezinoly, rezinotannoly, indifferent substance. Contains a unsaturated fatty acids: palmitic, stearic, oleic, linoleic and linolenic.
Basic indicators
| | |
| --- | --- |
| Color | golden-yellow oily liquid,, clear 90-93% |
| Odour | peculiar : odour of Siberian pine nut and resinol |
| Peroxide number | 3.84 |
| Acid value ( mgKOH/g ) | 0,62 |
Application
Diseases that are susceptible to treatment using turpentine balsam:
- All types of catarrhal diseases;
- Bronchopulmonary and ear, nose, and throat diseases;
- Diseases of the gastrointestinal tract;
- Cardiovascular and endocrine diseases;
- Skin and stomatological diseases;
- Diseases of the nervous system;
- Diseases of the locomotor system, etc.
Concentrations:
Balsam 5% used external and internal
Balsam over 10% used only for external use.
Contraindications
Hypersensitivity to any components of the preparation.

ORDER »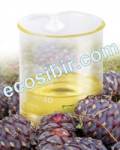 Siberian Pine nut oil
Siberian pine nut oil is obtained from purified pine nut kernel method cold-pressed, which allows you to keep useful properties of all its components.
Decorative tiles of Siberian Pine
Unique luxury decorative tile having aesthetic and health properties.
Oleoresin of Siberian Pine with Oil
Mixing Siberian Pine Oleoresin and Pine nut oil gives healing balsam. Balsam has a more powerful healing effect than each component separately.
Pine nut oil "ECO-SIBERIA"
Premium quality. Product is cold pressed allows to save all the healing properties of Siberian pine nuts, as well as his incredibly pleasant taste.