Water Extract of Siberian Fir
Price:
On request / liter
Water Extract of Siberian Fir (Florentine water) is produced during the production of essential oils of fir.
Properties:
Water extract of Siberian Fir is a natural adaptogenic agent with a broad spectrum of action. The product can restore physiological functions of human body, increase its resistance against various physical, chemical and biological factors: toxic effects of various chemicals, numerous infections, radiation damage. It also possess anti-tumor activity.
- increases the level of leukocytes, erythrocytes and hemoglobin in blood.
- has a clearly stimulating effect on gastric secretion. Extract is efficient when used in combination with other medicines to treat such gastrointestinal diseases as gastritis, colitis, enterocolitis, stomach ulcer, and duodenum ulcer.
- accelerated purification of festering wounds, active stimulation of granulating processes, immune system stimulation.
- it has been successfully used to treat lung disease and upper respiratory tract disease (such as bronchitis, tonsillitis, pneumonia, tuberculosis). The preparation eliminates inflammatory processes in the bronchi-lung system.
-Skin application of the extract in case of burns or dermatitis rapidly eliminates growing pathological process and prevents any possible recurrences. In case of mucous membrane injuries (erosions or ulcers), the extract causes fast granulation of the injured areas.
In this way, water extract of the Siberian Fir stimulates blood generation, the body's immunity system and regeneration processes, it has antimicrobial, anti-inflammatory, hepatoprotective, anti-ulcer, and anti-radiation effects, it improves the functions of the respiratory and gastrointestinal tracts.

Composition
Components

%

Maltol, %

0,9

Vitamins

À, mg/l

0.41

Â2, mg/l

2.3-4.7

Å, mg/l

2.7

Ñ, mg/l

18-30

Terpenes:

0,09

Composition of terpenes,%

Borneol

0,064

Longifolene

0,005

Caryophyllene

0,005

Bicabolene

0,002

Macro-and micronutrients

Magnesium(Mg),g/l

1.7

Potassium (K), g/l

0.6

Sodium (Na), g/l

0.3

Iron (Fe), mg/l

19.8

Zinc(Zn), mg/l

4.2

Manganese(Mn), mg/l

0.4

Calcium(Ca), %

0.033

Phosphorus(P), %

0.068

Aluminium (Al), mg/l

0.082

Copper (Cu), mg/l

0.05

Titanium (Ti), mg/l

0.008

Chromium (Cr), mg/l

0.003
Basic indicators:
| | |
| --- | --- |
| Color | cherry- or pink - colored liquid |
| Odour | pleasant fir-like scent |
| In terms of dry matter,% | 1, 06 |
| pH | 3,3 |
| Refractive Index t 20 ± 2 ˚Ñ | 1,336 |
| Specific Gravity, t 20 ± 2 ˚Ñ, g/sm³ | 0,995-1,000 |
- Biologically active additive is used for the integrated rehabilitation of the human body, compensates for the deficiency of vitamins and minerals;
- used for prevention and treatment of cardiovascular diseases, anemias of different etiology, diseases of the liver, gastrointestinal tract, genitourinary system, the treatment of Trichomonas colpitis;
- as an expectorant, remedy for colds, inflammation of the upper respiratory tract, pulmonary tuberculosis, pneumonia;
- as an active agent for excretion of excess radiation associated with increased solar activity in radiation sickness;
- as an active agents used to clean the intestines from toxins and poisons that quickly leads to a significant improvement in blood;
- when washing with festering wounds, dressings;
- for rinsing the mouth, inflammation of gums, parodontosis, stomatitis, inflammation of the larynx, for instillation and lavage of the inflamed mucous membranes of the eyes, corneal burns received as a result of sun exposure or electroarc exposure;
- as an additive to baths for bathing infants in the treatment and prevention of diathesis, skin inflammations outside;
- as biodyne growth in livestock and crop.
Contraindications

The preparation is not toxic and has no allergic, carcinogenic or teratogenic properties.
Hypersensitivity to any components of the preparation.
ORDER »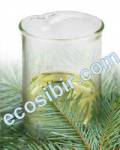 Fir Needle essential oil
Fir Needle essential oil produced by steam distillation from needles of the Siberian Fir.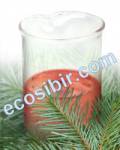 Water Extract of Siberian Fir
Water Extract of Siberian Fir (Florentine water) is produced during the production of essential oils of fir.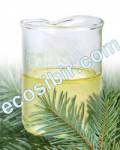 Oleoresin of Siberian Fir
Oleoresin of fir is naturally occurring mixture of an oil and a resin extracted from Siberian Fir.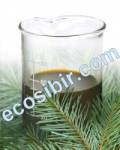 Siberian Fir needle Extract
Fir needle extract - extract from Siberian Fir (Abies sibirica) needles.