Siberian Pine nut oil
Price:
On request / liter
Siberian pine nut oil is obtained from purified pine nut kernel method cold-pressed, which allows you to keep useful properties of all its components.
Siberian pine nut oil side effects:
- Siberian pine nut oil has a tonic effect, eliminates chronic fatigue syndrome, increases physical and mental performance: optimizes cognitive activity and brain function;
- Improves immunity;
- Pine nut oil gastritis
- Contained in the oil vitamins contribute to the growth of the human body, improve blood composition and favorably act on the skin tissue, stimulates the muscles, prevent the appearance of dermatitis in children;
- Helps the body to transform proteins, fats and carbohydrates into energy, regulates metabolism;
- Normalizes the nervous and cardiovascular systems;
- Effect on sexual function and other endocrine glands (restores virility and return the youth) promotes the formation of milk in lactating women;
- as an antioxidant - slows or prevents oxidation of organic compounds with molecular oxygen;
- Antisclerosic effect, reduces cholesterol, promotes restoration and healing of mucosal tissue, increases elasticity of blood vessels, improves circulation, has cardioprotective and antiarrhythmic effect;
- Possess neutralizing the action of many toxins:
- Helps preserve eyesight and hearing;
- Has an antiviral effect, particularly against viruses that cause cold sores and acute respiratory infections;
- Helps the absorption of calcium from the blood and its transportation into the bone tissue, so it can be applied in the treatment and prevention of osteoporosis.
- Promotes digestion, absorption and proper metabolism of fats, increases bile secretion, and normalizes cholesterol metabolism, reduce fat accumulation in the liver;
- Cosmetics: relieves inflammation and rejuvenates the skin, protects it from fading, saturating the natural vitamins, trace elements, maintaining the natural acid-alkaline balance.
Composition:
Components

%

Fatty acids

% of total weight Fatty acids

Palmitic

4,791

Stearic

2,453

11-Eicosenoic

0,740

Eicosanoic

0.225

Arachidic

1,002

Eicosadienoic

0,925

Unsaturated fatty acids

Monounsaturated fatty acids

Oleic

25,221

Polyunsaturated fatty acids

Linoleic

46,209

Pinolenic

18,954

Sciadonic

0.794

α-Linolenic

0.317

Vitamins

content: mg per 100 g of pine oil

Carotenoids (provitamin A)

31

Å

55

D

0,07

Â1

1,6

Â2

1,7

ÂÇ (ÐÐ)

14

Macro-and micronutrients

content: mg per 100 g of pine oil

Phosphorus(P)

840

Potassium (K)

650

Magnesium(Mg)

552

Sodium (Na)

195

Calcium(Ca)

110

Zinc(Zn)

20

Iron(Fe)

19

Manganese(Mn)

16

Copper (Cu)

4

Iodine

0,6

Amino acids

90% of weight nitrogenous compounds

Essential amino acids

70% of total weight amino acids

Valine

Isoleucine

Leucine

Lysine

Methionine,

Threonine

Tryptophan

Phenylalanine

Nonessential amino acids

30% of total weight amino acids

Arginine

Histidine

Tyrosine

Alanine

Glycine

Proline

Asparagine

Serine

Glutamine
gentle nutty flavor and odour , glorious golden colored oil with a subtle and mild

taste

Mass fraction of moisture and volatile matter, %

Mass fraction

nonoleaginous impurity, %
Prophylactic use of:
- As an immunostimulant in various manifestations of ill health or lack of vitamins;
- Bracing means to eliminate the syndrome of chronic fatigue, improve physical and mental capacity;
- For prevention of age-related diseases such as atherosclerosis, diseases of the digestive organs, heart.
Therapeutic applications:
- Helps to reduce blood cholesterol levels and inhibits the development of atherosclerosis;
- Is an effective additional tool in the treatment of arterial hypertension;
- Has a normalizing effect on blood vessel walls, improves cerebral and peripheral circulation;
- Reduces or eliminates the violations of fat metabolism;
- Provide effective assistance at diseases of the digestive system (Erosive and ulcerative lesions of the gastrointestinal tract, gastritis, cholecystitis);
- Used for varicose veins (blurred light massage);
- Plays an active role in the nutrition and maintenance of normal life of the growing child's body;
- Breastfeeding mothers to improve lactation, and pregnancy to full natal development of the child;
- For the normalization of sexual function and endocrine glands;
- Beneficial effect in diseases of the skin, burns, frostbite;
- Is an immunostimulant and bracing tool, reduces
chronic fatigue syndrome;
- To slow the aging process, improve skin tone and power.
Thanks to this set of nutrients for human health, it is possible recommend Pine nut oil:
For internal use:
- For everyday use in the food (to enter into sauces, condiments, dressings
- As a vitamin supplement to the food, as part of multivitamin;
- Part of balms and medicines;
For external use:
- Cosmetics, hair care and body;
Siberian Pine Nut oil, being a natural product, has no contraindications to the use and application, as in food and in medical purposes.
ORDER »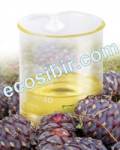 Siberian Pine nut oil
Siberian pine nut oil is obtained from purified pine nut kernel method cold-pressed, which allows you to keep useful properties of all its components.
Decorative tiles of Siberian Pine
Unique luxury decorative tile having aesthetic and health properties.
Oleoresin of Siberian Pine with Oil
Mixing Siberian Pine Oleoresin and Pine nut oil gives healing balsam. Balsam has a more powerful healing effect than each component separately.
Pine nut oil "ECO-SIBERIA"
Premium quality. Product is cold pressed allows to save all the healing properties of Siberian pine nuts, as well as his incredibly pleasant taste.