Pine nut oil "ECO-SIBERIA"
Price:
On request / 300 ml
Siberian pine nut oil ECO-SIBERIA -
natural alternative to drugs
We are pleased to present you with a unique food product - Siberian pine nut oil «ECO-SIBERIA." Siberian pine nut oil is cold pressed allows to save all the healing properties of Siberian pine nuts, as well as his incredibly delicate and pleasant taste.
Using high quality raw materials and modern technology, provide the production of oil, corresponding to the highest modern standards of quality and which, by virtue of its origin, have more food and energy value.
Obtained without the using of chemical reagents, Siberian pine nut oil «ECO-SIBERIA" - is a valuable, natural product, which can help resist many diseases and considerably improve your health.
Specification
| | |
| --- | --- |
| Composition | 100% Siberian Pine Nut Oil first cold pressed |
| Appearance | Oily liquid, permit slight sediment |
| Color | Golden-yellow |
| Smell, taste | Characteristic and subtle taste and smell of nuts |
| Packaging | 3 bottles of 100 ml (recommended dosage) |
| Energy value | 898 kcal. |
| Nutritive value ( in 100 g of product) | Protein - 0% fat - 99.8%, carbohydrates - 0% |
| Peroxide value, mmol / kg | 0,9 |
| Acid number, mg KOH / g | 3,5 |
| Iodine number | 147,2 |
| Moisture and volatile matter,% | 0,08 |
| Mass fraction of nonoleaginous impurity,% | 0,02 |
| Unsaponifiable matter,% | 1,1 |
| Certification | Standart (ÒÓ) 9141-001-73225681-2005 |
Siberian pine nut oil "ECO-SIBERIA" - a natural complex of vitamins and minerals, which balanced itself of Siberian nature and digested easily on 98%
Pine nut oil benefits
Pine nut oil side effects
• Salutary effect in diseases of the gastrointestinal tract, heartburn, constipation, bloating, Barrett's esophagus, irritable bowel syndrome, erosive and ulcerative diseases. Pine nut oil for ulcers. Used for the prevention of gastric cancer, as an anti-inflammatory and analgesic.
• The high content of vitamin E helps to restore virile strength, absorption of proteins and carbohydrates, regulates metabolism and promotes the lactation of nursing mothers
• Vitamin E is a powerful antioxidant that neutralizes free radicals, thus preventing damage of cell . As a result of slowing the aging process, therefore help to save youthfulness, beauty and vivacity.
• Vitamin F lowers cholesterol, increases the elasticity of blood vessels, promotes restoration and healing of wounds and mucous tissues

• Vitamins A, B, D, needed for growth, normal development and functioning of the organism
• Optimum content of Pro-vitamin A ensures its use safe in pregnancy and lactation
• Amino acids have a restorative effect on the organism, and normalize the nervous system
• Trace elements are essential components of somatic tissues, included in the structure of a number of important enzymes, hormones, vitamins and other biological assets of the body. Minerals are able to stimulate or inhibit many biochemical processes: ensure continuity of osmotic pressure, acid-base balance, processes of absorption, secretion, blood, bone formation, blood clotting, and without them were would not be possible function of muscle contraction, nerve conduction, intracellular respiration.
• Polyunsaturated fatty acids have anti-sclerotic effect, increase the elasticity of blood vessels, have a neutralizing action of many poisons and toxins that prevent the appearance of dermatitis in children.

• Pinolenic acid acts as a potent anti-inflammatory agent. Increases the release of digestive hormones that speed up the digestion process. Improves absorption of nutrients, inhibits acid secretion and increases insulin secretion. Increases the production of immunoglobulin in the gut, which provides enhanced protection against infection by micro-organisms that cause bacterial or viral infections

• External using and massage with Siberian pine nut oil "ECO-SIBERIA" - reduces inflammation, speeds healing of burns and frostbite, has a rejuvenating effect on skin.
Contraindications
Side effects and contraindications have been identified, except for the hypersensitivity.
For more information visit Product
ORDER »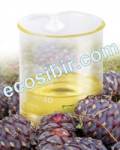 Siberian Pine nut oil
Siberian pine nut oil is obtained from purified pine nut kernel method cold-pressed, which allows you to keep useful properties of all its components.
Decorative tiles of Siberian Pine
Unique luxury decorative tile having aesthetic and health properties.
Oleoresin of Siberian Pine with Oil
Mixing Siberian Pine Oleoresin and Pine nut oil gives healing balsam. Balsam has a more powerful healing effect than each component separately.
Pine nut oil "ECO-SIBERIA"
Premium quality. Product is cold pressed allows to save all the healing properties of Siberian pine nuts, as well as his incredibly pleasant taste.